The truth is this year, on this very special day-my birthday, I forgot how to be thankful for what I have. All I felt was the sourness of life pouring in on a day that was supposed to bring sweetness to my soul.
In reality, our mortgage is behind. Our phones are ringing in from bill collectors. The work at home journey God called us on is leaving us further and further in debt.
Read more about our work-at-home journey.
Thankfully, we have food on our table, not the food I want to provide, but enough food to fill our bellies.We have a warm house and furniture to rest on.We have a lot to be thankful for. But, this year I didn't get to go out for dinner my birthday.
It was something I never had to give up before.
My hands slapped together a dinner I didn't want to make.
And, the family time I usually received every year filled with cries with my husband working hard in the other room.
My day reflected on everything I didn't have instead of everything I did have.
But, how do we start feeling thankful for what we do have?
When we feel as though we have nothing we should start focusing on the little things we do have.
When our minds start shifting into a downward spiral, we set the very trap of thinking;
We are nothing.
We have nothing.
Rather than stepping into that trap, we can do something simple.
Stop.
Pause.
Breathe.
And rethink.
How To Be Thankful to God at All Times
There's no shame in being ungrateful. We all go through periods of doubt and worry. Some of us have less than others, and that's okay.
But, honestly, I am so grateful for the times I do have less. For if, there are no times of trouble there would be no times of greatness.We can't be fully grateful for everything we have until we have nothing.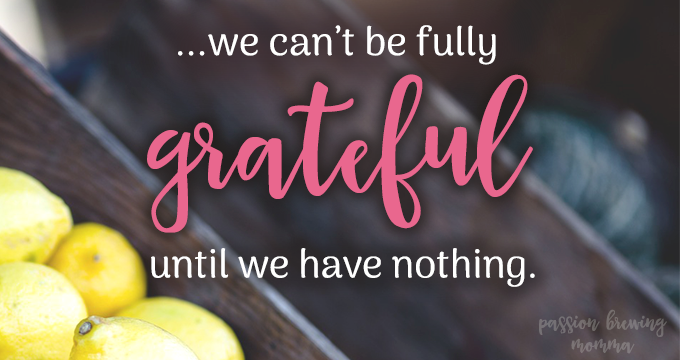 I know even though I feel as if I have nothing at times, I do have a lot more than most. This is the very trap Satan wants us in. Thinking if only I had…things would be better. If I had this person in my life…I would feel better. If I had the money to do this or buy this, I would be happier.
There's no right or wrong way on how to be thankful. It's simply putting a pause on our thoughts and taking a look around to see what we do have.
Are you up for journaling? It helps to physically write down the things we are thankful for.
Here's a FREE gratitude journal from Life Your Way!
Let's Soak In This Together
Dear friend,
I'm not always great at being thankful for what I have. I envy you at times. I miss the people in my life that once were. But, together as we sit around this time of year, together or far apart, I ask God to open both of our eyes for what we do have. Let us not focus on the pain or our deepest desires, rather let's put thankfulness on our plates this year. For if we spread our joy of the simple things in life, we can pass along the love our God intended for us to enjoy.
Let's make every ounce of sour lemonade into the sweet goodness that makes our hearts sing thankful!
Your friend,
Whitney
---
Here's another fun gift: Get this FREE printable from frugalitygal!
(image from frugalitygal)
---
Subscribe
Join the newsletter to get the latest updates.
---
---