Earlier this year, I signed up to run the year 2016. Yes, 2016 miles worth! Crazy considering I am not a runner!
I even told my husband pregnancy was not in cards for me. From a mom that was pregnant for three years straight, I like having my body back.
No more aches, no more uncontrollable food cravings, and I don't have to pee every five minutes.
I had other personal goals in mind. I wanted to finish my book I've been writing. I wanted to increase my blog posts and grow my reach. Since I am a mom, my work time is at night.
My writing time is at night.
My ideal vision and dream for my ministry didn't include nausea, extreme fatigue, or future breastfeeding sessions.
Having a baby was out of sight for us.
We planned on pulling off the working at home business. We didn't know when, or how. All we were waiting for is God to push us off in that direction again. We longed to feel guided by him, but we heard nothing. We prayed. We waited. We even thought we might have ruined our chance by disobedience.
This wasn't God's first calling upon our lives to work at home.
God Called My Husband to Leave His Job the Year Before this too.
We're used to unstable life goals. Three years ago we took the Dave Ramsey's Get Out of Debt course. We sacrificed grocery pleasures, out to eat expenses and things that remained on our want list. We paid close to six thousand dollars off our debt, only getting closer to knocking off each student loan.
The next year God called my husband to leave his job.
As a woman who likes planning, consistency, and feeling comfortable I too doubted my husband's words as he told me where God led him.
My husband called to tell me he put in his notice. My knees grew weary and hit the ground.
God if this is where you're calling us please put peace and trust in my heart.
The jitters of my body eased as I realized God was calling us to an unknown place. We financially planned to have our expenses covered for three months.
That three months turned into six months of working at home and figuring out what my husband was supposed to do. As our expenses dwindled our credit cards remained as our only hope to make it through. We prayed. We waited. And silence followed.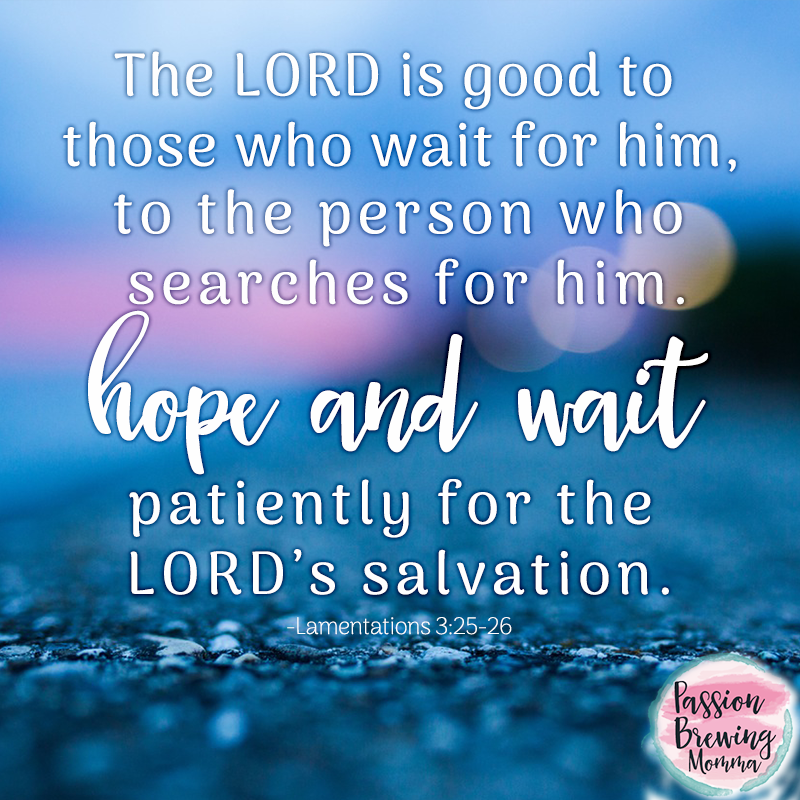 When the Work at Home Dream Hit Pause
The sound of Jingle Bells rang on the radio and the bitter cold of December returned. God told us our time at home was coming to an end. In our minds, we thought we failed him. Our heavy hearts hung low, for the outcome we hoped for turned into something we both didn't want.
God's plan didn't match our plan.
The eight to five job lifestyle seemed repetitive and purposeless when we had so many other ideas in our head.
But, we obeyed. My husband started working at a university. The pay excited us. The stability steadied my worries once again. A few months of spending what we wanted spread into a feeling of purposeless.
We wanted to be on that thrill of the unknown journey God sent, and the limited time we got to spend on the previous opportunities ceased our hope in being there ever again.
We prayed for him to use us. We prayed for another chance to work at home. Silence remained.
When God Put on Our Heart to Have A Baby
Another six months passed. Our marriage stood on the rocks, we both were spiritually broken. Not hearing from God and obeying this crazy dead-end calling sent our faith rolling down hill. We started counseling but never returned.
I prayed for God to heal us and He took his time in bringing the pieces of love and trust back together.
No marriage is perfect.
Every marriage takes work, and we finally were putting in some work.
Late April, the kids slept as I drove to pick my husband up from working at the church. The radio barely up as I heard a consistent voice speaking in my heart. Have a baby and leave the university. It's time.
Now from a woman who desperately wanted to hear something from God, anything, I had to make sure this was from Him. Yet, again as I questioned what I heard; God really? Is this really you, because I don't want to mess up this time. And a baby, really? You want us to leave a job and have a baby?
If I wasn't so desperate to hear God call us somewhere else, I probably would have argued that this year was not a year for baby making! But, as his request repeated in my heart I knew He was sending us on another adventure—trust.
My Husband Left His Job Once Again
In the summer of 2016, the financial planning landing in God's hands. We didn't have money saved. We had a better idea of what my husband could do to earn money, but no business plan magically appeared. Months prior to God's new destination route for us I put my name on a waiting list for a Christian Writer's Conference—one I dreamed of going to.
Honestly, I planned on not going. How could I with what was in front of us?
The acceptance email came through telling me they had a seat for me! I prayed. I waited. My fears told me no, but in my heart, I could feel God pushing me to this conference miles away.
Read more about the She Speaks Conference in this post!
A month before the conference in North Carolina my heart worked on a very special book proposal to present. One morning I received a very harsh critique from my writing group. I lay on the floor swallowed up in tears. How could I continue to do what God asked if my writing didn't measure up?
My anger made me test the other promise God told us to work on. In my frustration, we found out the other seed of hope God planned in my belly. The little plus sign finally showed!
For this baby called upon by our Father was a mighty feeling! The pregnancy cravings hit after we returned from North Carolina.
Our budget left little to play with, so the usual bean and rice budget took an adjustment. We've spent money occasionally on my cheesy fries and sweet cravings, but there's nothing like fearing for every dollar you spend.
Will the Work at Home Business Fail Again?
I'm not sure. I do know that living with purpose is far greater than living with stability. To see my husband get excited about what he's doing brings a joy that's unreachable in comfortable. It's a blessing to see God work purpose into our life even though we are living on the edge.
We are learning to trust God more and more each day. Of course, we will follow wherever God leads us, crazy or not.
So, yes God did call us to have a baby and leave our stable income. We've made sacrifices and received blessings of pure joy within our family. I don't know how long God will make this journey last.
The Christmas tree could be bare this year, but that's not all that important.
If I could, I would invite you over for some coffee and yummy snacks.
We could sit and talk about God's calling upon your life. I would tell you to not give up on Him. He's always working even when we sense His absence.
I would let you touch my belly to feel our little blessing move around. Then I would remind you of the small seed of purpose He has implanted in you too! (It's not always a baby, lol)
It's hard believing and trusting in a God we can't see. But, when we continue to follow, even if it's blindly, we can feel the very presence of whom created us! In that moment we realize we are never alone to face the battles ahead.
Today, I pray for you.
I pray you will choose for God to use you in mighty ways—big and small. May the love of God be put on your heart to let you know you have a living purpose in Him. In Jesus name, I pray, Amen.
---
Subscribe
Join the newsletter to get the latest updates.
---
---