Free-cricut-template-a-gift-for-you. In honor of the new change coming to my blog, I am giving away a free Cricut template, or for use on other cutting machines. What's that, change? Okay, I never thought I would be doing craft posts, but here I am.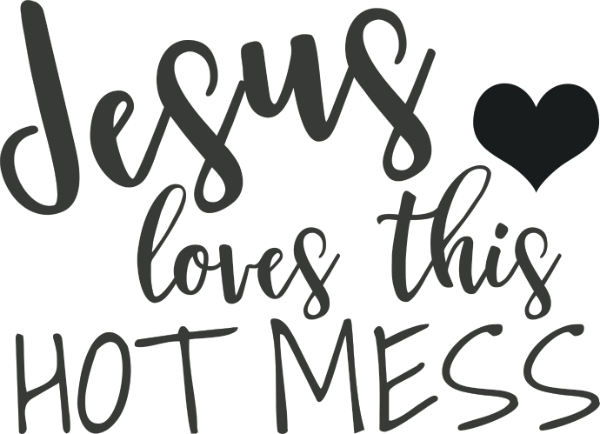 I'm not a crafty mom.
There, whew, I got it out there. My heart has always fluttered at the idea of creating all those beautiful crafts on Pinterest. But, my patience and lack of skill turn my art into a jumbled mess of who knows what.
So one day as I strolled through Hobby Lobby, dreaming I could create something—I found the Cricut Machine. I didn't know what it did, but I had one of those angel callings when they sing Ahhhh. Maybe I only have those, but I knew there was something special about this machine. (My kids call it my cricket machine, so cute!)
I further researched at home and found a whole new crafting world I could be a part of! In case you're not familiar with my main message, I'm writing to moms to help them find a passion of their own. A year ago I found my passion for writing and it changed my life. I'm a mom of two toddlers and let's be honest it's hard for a mom to take time for herself.
My identity as a woman was lost. The anger inside me burst out early in the morning and with tears hidden in my bathroom throughout the day. I didn't like the person who I became, so I decided to invest in myself along with my family.
I know I'm not the only mom who has felt suffocated, limited, and purposeless.
That's why I'm so excited for this new change!
Here, I will be doing crafty posts that are easy enough for me to do! So stay tuned in for my upcoming post about everything you need to know about the Cricut.
Never dreamed of being a crafty mom, is the Cricut machine not for you?
I have another new change I'm thrilled to announce. October 13, 2016, I  launched my new podcast The Passion Brewing Momma. Here we sit down together and talk about finding that new woman in this chaotic beautiful momma journey. We will be chatting with other moms to find out their passions and how they pull off momma time. You can find me on iTunes and Podbean!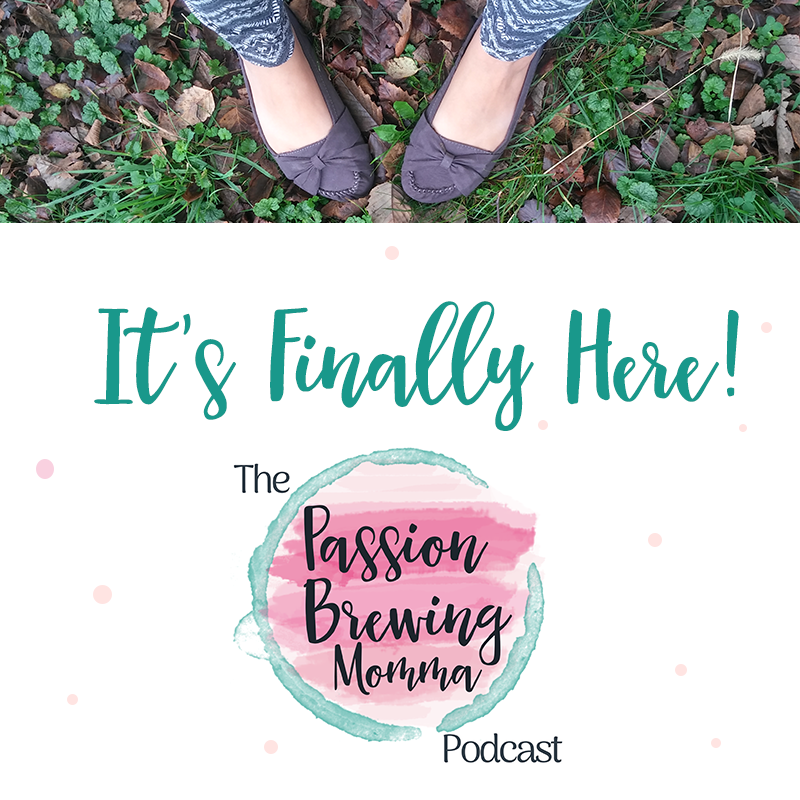 Free T-Shirt Template for Ladies
Since I have the wonderful Cricut machine in hands reach, I wanted to create something for my niece. So I decided a T-shirt holding the words Jesus Loves this Hot Mess would suit her needs of satisfaction.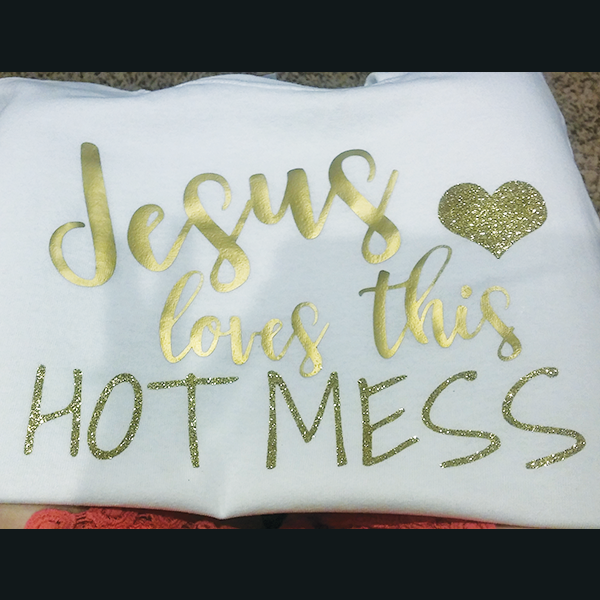 I simply looked for some design inspiration, and with my husband's help created something I could call my own. I'm not a gold lover, but I accidentally fell in love with this gold vinyl and gold glitter. So here's how my shirt turned out.
The great thing about this template is you can use any color of iron-on that you want! Make it in pink, black, red, yellow, white. Or for glitter lovers add a little sparkle to their gift.
Want more FREE cut files? Check out these cute FREE Printable Pantry Labels.
I hope you enjoy! And when you're done making your crafty apparel go check out my podcast!  Want to check out my other Passion Brewing Momma blog posts, need some mom motivation? Check out this post about my trip to the salon with my toddlers. Also, you can check out my first podcast interview here!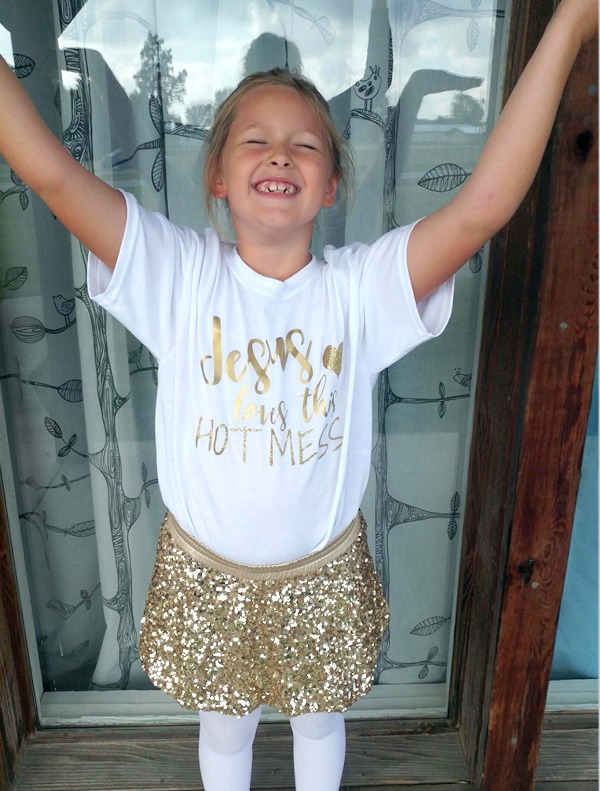 ---
Subscribe
Join the newsletter to get the latest updates.
---
---