.Okay, so you've found it.
Those sleepless nights are more craveable, desirable. Much different than those nights eagerly trying to get your sweet baby to bed.
You actually can't stop daydreaming about it.  It makes you pumped just to talk about, think about it, dream about it.
But, what happens when life gets in the way?
A sudden death occurs, a relationship becomes rocky, you start to feel like you're not good enough?
Maybe there's just not enough time.
You don't feel motivated like you once were.
The pumped-up feeling fades and this question keeps popping up.
Is this really what I'm supposed to be doing?
Did you miss the last Passion Brewing Momma Episode? Find out the simplest way to find happiness.
Keeping Our Calling Thriving When Life Is Not
Keeping our calling thriving when life is not can be challenging.
It's harder when you're not sure if that's really what you feel called to do.
There are many times when I question my calling to write.
Am I good enough?
How can God use someone like me?
If my motivation fades, if I don't feel moved to do this anymore, how can this be my calling?
Maybe you have a different question that continually greets you at life's ugly moments. Keeping you from passionately thriving to continue.
Fabienne Fredrickson defines the question we all eventually ask,
The things you are passionate about are not random. They are your calling.
Want a thriving marriage too? Here are 7 secrets that could help.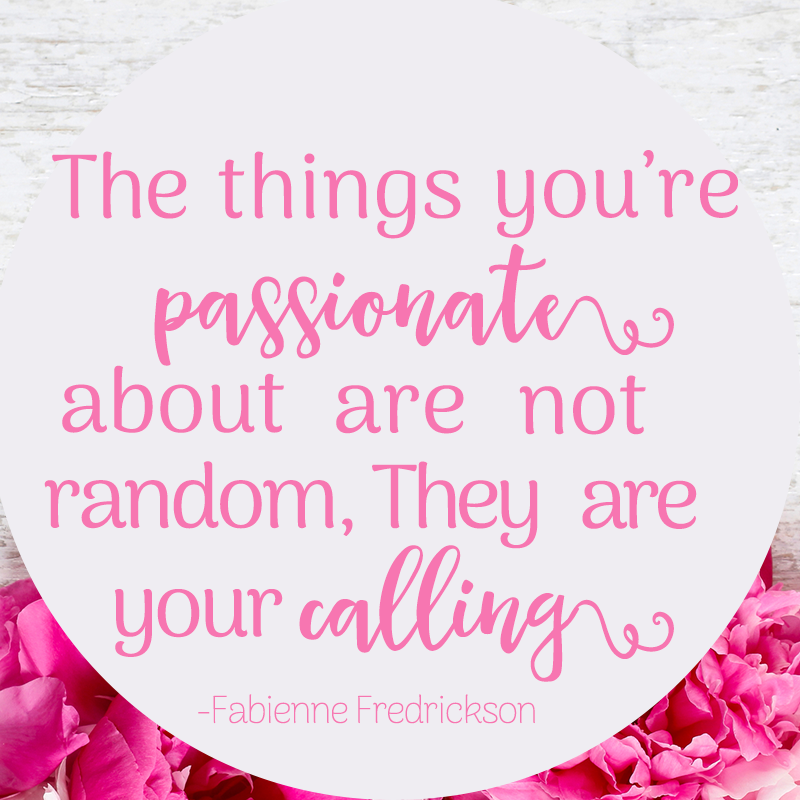 So how do we keep our calling thriving when life is not?
Lately, I've been overwhelmed with my passion for writing and encouraging others. Other areas of my life have made me question if I'm really doing the right thing.
My seven-month-old son is doing is a fair job of being extra cute and super awake during my usual time of writing.
Sometimes in our walk of faith, we consume this idea that we have to hold it all together when things get tough, when our anger boils over, or when we can't handle the life cards thrown at us.
Especially, when we have a passion for helping others. How are we supposed to lift others up when we can't hold ourselves together?
But, through all the doubts and life's little hiccups, we have to keep in mind this one thing.
Our calling will never diminish.
It grows when we believe
and dims when we are weary.
But, it will never burn out completely.
Our calling might change over time, but God will never leave us without one. For he loves when we are passionately thriving to do the things he solely planted in each one of us.
God will continually confirm our calling over and over again. Just like He does with His love and grace.
He's our biggest cheerleader even when we can't hear Him.
But, no matter how many times I question my calling God always brings me back. It can be an unexpected person telling me I've told them exactly what I needed to here. Or some emotion that triggers a spark that ignites my flame for writing again.
What I'm learning is that too many times we let our feelings take the wheel.
If we don't feel like we should be doing it, then maybe we shouldn't.
Or if I'm not feeling up to taking time for myself, then maybe I'll pass for tonight.
Sometimes as moms, especially of little ones, it's so much easier to pass on our time and give into what everyone else needs.
Just because our motivation fades, or life pulls our heart and mind in a different place does not mean our calling can't be thriving.
Our motivation to do the things we love should not be based on how we feel but rather what we feel when we do what we love.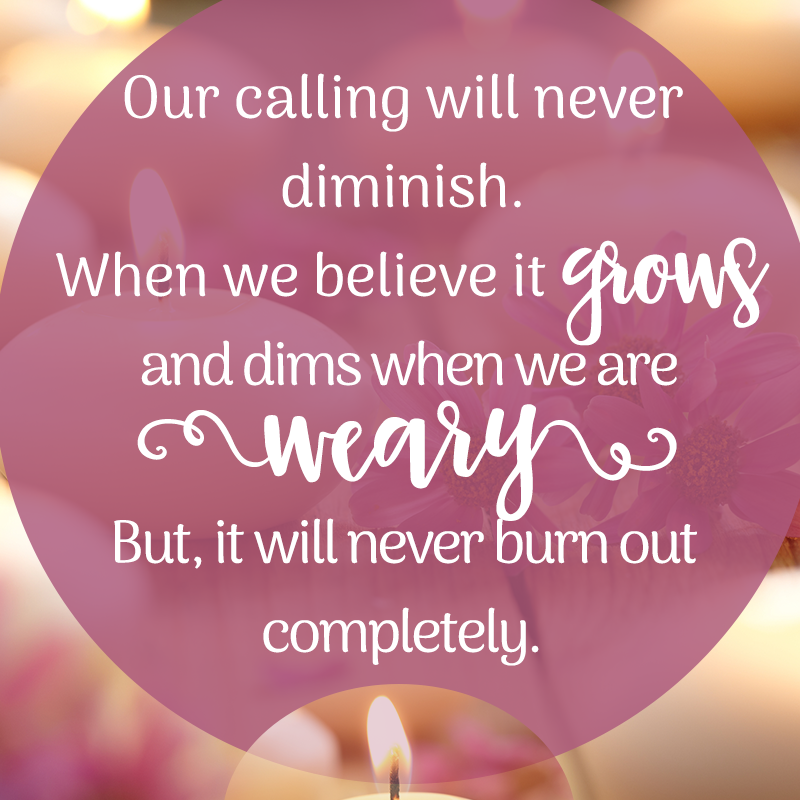 5 Things to Try To Keep Our Calling Thriving
1. Take A Break
Deadlines, little sleep, and constantly investing in your passion can cause burnout. Our passion turns into an obligation rather than a desire. Even though our passion refuels us, it's also important to step away from time to time. Go binge watch Gilmore Girls, or another feel-good series. And most importantly, don't set a time limit for your break. I know most bloggers won't agree with this, but there's nothing more necessary than getting enough time to refuel yourself in order to give back to others. I've heard some bloggers suggesting you take a day or a week off. You know how much time you will need. And remember, if it's truly your calling, it will always call you back.
2. Do Something Else You Love
Another way to keep our calling thriving is doing other things we love. It reminds us we're not just tied to one specific thing. Do some crafts, make a new recipe, go to a coffee and paints session, or try something new. Exploring things we love lets our mind think creatively without any pressure. A lot of my ideas for my calling come in the moments I let my mind rest and relax in something new.
3. Go Visit Some Friends
Friendship is important. We need our friends. Friends have a good way of reminding us why we started our passion in the first place, even if we're not quite sure what it is. They remind us who we are, what we love. And they have a special way of guiding us to the destinations we strive to go.
4. Be Present
There is nothing more important than our family and the people we love. While our calling will always be waiting when our life has its downs, the people we care about may not. Being present in the lives of the people we love is essential to keeping our calling thriving. It lets us soak into the person behind the thing we love and reminds us what's meaningful in our life.
5. Pray
When life takes unexpected turns. There's always someone who will listen fully. When your calling is not thriving like you want, talk to God about it. I'm not good about this, but it always helps me from getting angry or frustrated about my passion.
May your day be filled with motivation, even when you're feeling blue, and may your calling thrive like never before. For we never know what goodness the day can bring until we fully love who we are.
Want to be a thriving single stay-at-home mom? Read what is helping this momma.
---
Here's an outline of the sweet stuff in Episode 16:
When we are unsure of our calling
Hope for when our calling is not thriving like we want it to
5 things to try to get back doing the things we love
Where to find me:
To subscribe find me on your podcast app. If you don't have an app here's some I suggest:
For Android-Podcast Addict
To listen on your favorite podcast app (mobile) you can use this url.
.
---
Subscribe
Join the newsletter to get the latest updates.
---
---