Welcome to Episode #13: Baby Memorial Keepsakes with Sarah Pennington. God truly designed Sarah and me to speak to you today. I hope you find hope in her story and passion of creating breathtaking baby keepsakes.
It has been a true spiritual battle getting this episode delivered.
I can't be more joyous as it is a special episode in honor of two angel babies: Noah Henry and Logan Forrest.
If her story inspires you too, make sure to comment below and share her message with your friends too!
About the Baby Keepsake Creator
This baby keepsake creator is no ordinary mom or wife. Sarah Pennington is a woman full of strength, passion, and hope.
Mrs. Penninton raises her family on the foothills of the Appalachian mountains.
When she's not working on her passion she's probably wrangling her rowdy two-year-old son and loving every minute of it.
She always wanted to live in the city and did for a little bit while in college studying video production. But, now she's back to the country living where she feels right at home. Her family surrounds her and her parents even live next door.
When it comes to art Sarah loves it all! She likes to crochet, doodle, and watch movies too.
Where Her Passion for Baby Memorial Keepsakes Began
Like most moms with a passion behind their business, Sarah has a story worth sharing and hearing.
Five years of being together with her husband, trying to have a baby, they found out their little peanut was growing in her womb.
Not a bad gift for Father's day!
Pregnancy brings so much joy to a mother's heart. But, when Sarah was 19 weeks pregnant they found out some troubling news.
When rushed into the ER they discovered they were carrying a little boy, but there was something wrong.
Her cervix was incompetent meaning it was too weak to hold her baby.
Their little Logan was trying to come out. The doctor's planned on doing an emergency cerclage, in an attempt to prevent him coming out too early. This process involves stitching the cervix closed until the baby is ready to be born or be able to survive.
But, their little boy was already starting coming through, so there stood a risk of a life-threatening infection for both her and her baby.
Then came any mother's worst nightmare. It's when your world turns upside down in the midst of the unexpected.
They told her their son was not far enough along to survive, and if he did survive birth they would only get a few minutes with him.
In September 2013, Logan Forrest went to rest in the arms of Jesus.
When you have a pregnancy after that you're prone to extreme paranoia and anxiety, explained Sarah.
They both prayed for a baby and rested in the thought of it will happen when it will happen.
Right around Christmas, they found out they were expecting their rainbow baby.
What is a rainbow baby? Find out more here.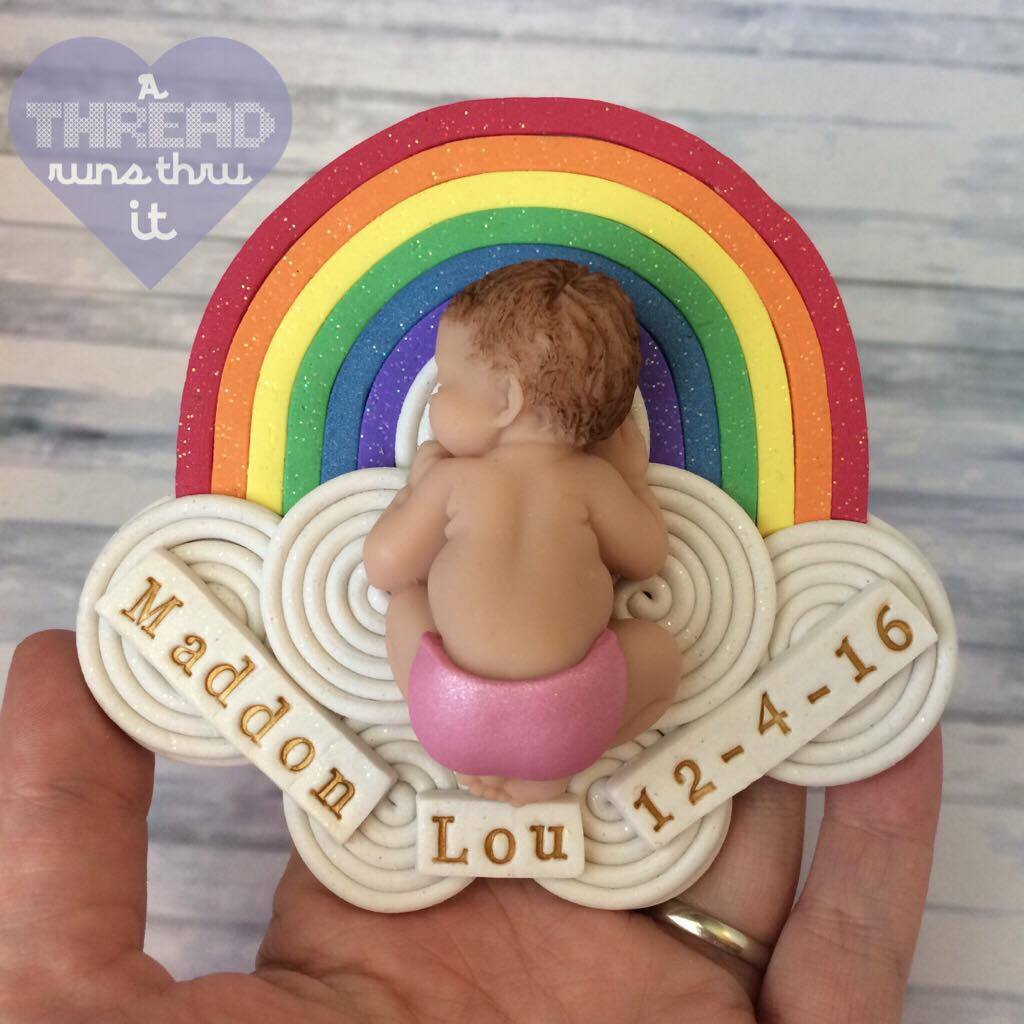 Sarah's mom started with making the baby keepsakes. She made the first baby keepsake for Sarah. She and her mom opened an Etsy shop before, but only played around with some nature inspired art.
Sarah loved her keepsake of Logan so much, that she wanted to make these for other moms who went through the same experience.
At some point, she thought I don't know how long I can do this.
Every day she ends up talking with someone who went through the loss of a baby. When talking with others she relives what she went through.
But, through the raw emotions, God keeps giving her signs to continue.
The moms that receive her beautiful baby keepsake creations continue to tell her how much their gift means to them and how much it helps with their healing.
You can hear the strength God has given her when she talks about surrendering her passion to God.
This is yet one of the hardest passions I've interviewed because Sarah relies on God's strength for herself, and strength to spread to others going through the loss of a baby.
How She Balances Mom-life While Creating Memorial Keepsakes
This momma finds it such a blessing to be a work-at-home mom, but she works constantly. Sometimes she's up until 2 in the morning working on her orders and finding out how to grow her business.
In this episode, Sarah reminds us of the importance of giving ourselves a break. She has to set deadlines with her business while making wiggle room to take a break and truly enjoy her son.
Since she didn't get to watch her first little boy grow up, she's gotten the watch his memory grow with the business.
How To Make Baby Keepsakes
How long does is take to make one baby keepsake? Well if you guessed hours, your are right!
Sarah makes these keepsakes in stages.
She takes a lump of polymer clay (a plastic in a moldable form) and conditions it to make if softer.
Then she puts the clay into a high-quality mold
She sticks the mold into the freezer to make sure it gets hard
Next, she has to fine detail the parts that don't come out that great with her sculpting tools (hands, mouth, nose, eyes, etc.).
Once she gets them just right, she bakes them
Depending on the design, she uses clay that comes in liquid form to bond each piece together. She paints the hair, bunnies, and rabbits with doll paint.
Each baby keepsake is unique, sometimes Sarah includes a special note, and then she ships them out.
She can do custom orders too! Sarah is willing to give anything a try. She can match different skin tones or put animals on the diapers.
She can make custom faces and fingers too!
For a more detailed description listen to the episode! She shares some great tips.
Want To Be Challenged With This Passion?
Working with polymer clay can be a little bit of a learning curve. But, even Sarah notices a big difference from when she first started until now. She recently shared this picture of one of her first baby keepsakes and one of her newest.
Here's a picture she shared on Instagram from when she first started making these baby keepsakes to now.
The more she's done it the better she's gotten. When she started she got packs of clay and just started playing around with it. There are lots of fun things you can do with polymer clay!
Here are 19 ideas to get your mind brewing about polymer clay.
If you are interested in this passion you can find tutorials on Youtube.
Check out these 20 polymer clay trips and trick for beginners.
There are paid classes you can find and sometimes local classes.
And if you totally failed with earth clay in school, don't worry. Both Sarah and I admit to being terrible at making those clay pots. But polymer clay is different it has a consistency similar play dough and silly putty.
She encourages y'all to give it a try!
What To Say To Someone Who Has Lost A Baby
Sarah often deals with families that have lost babies.
If she could say one thing don't avoid them.
She would rather someone say the wrong thing than having someone completely leave her life because of it.
Here is what she suggests;
If you could say, I can't imagine what you are going through, but I want to be there for you.
That's a good place to start.
Even if you say, I don't know what to say so if I say the wrong thing, please let me know so I don't say it again.
You can also bring them a meal some or tell some jokes.
Tips For Owning An Etsy Shop
Make friends with other sellers. They can share things with you that you don't know.
Don't ever stop learning.
Sarah's Favorite Piece of Work
Sarah loves working on every piece. Everyone is special to her. She loves to get to know her customer and get to know their story. Every new one is her favorite because she gets better every time.
After making a rainbow baby cake topper, the mom's Aunt put in a top secret order for the little boy they lost for Mother's day. Her little boy, Wes, is always sending her rainbows of hope, so Sarah added a rainbow to the ornament. Another special sign is a western weeping hemlock. This evergreen has a weep tip and reminds the family he is watching over them. The aunt told Sarah they had similar stories to their losses, so that made this one special too.
Want your own baby keepsake? Maybe it's an angel baby, a rainbow baby, or a cute little bundle of joy. Sarah's creations will look good on a cake topper, ornament, or just sitting on your shelf.
Here's an outline of the sweet stuff in episode 13:
The ins and outs of having a passion for keepsakes
Tips on owning an Etsy shop
How to get started with polymer clay
What to say to someone who has lost a baby
Thank you for stopping by, enjoy the show!
May your day be filled with some polymer clay (even if it's some play dough), the joy of God's hope and love within your heart, and a little time for you. For we never know what goodness the day can bring until we fully love who we are.
Once you listen, feel free to leave a comment/suggestion/question below.
---
Here are some resources we discussed in the show:
How to connect with Sarah:
Where to find me:
To subscribe find me on your podcast app. If you don't have an app here's some I suggest:
For Android-Podcast Addict
---
Subscribe
Join the newsletter to get the latest updates.
---
---