My bathroom is my favorite place to seep my emotions. It's often mopped with tears of frustration, hopelessness, and loneliness.
My mint green room (the one I've been wanting to re-paint for years) is my slice of New York cheesecake.
It's the place I run to when the loud angry voices from my marriage tell me we're failing.
It's where I question why I have no friends.
My mint ice cream room is my safe place when my kids touch my last nerve.
But, honestly, in the loneliness and craziness of motherhood, grace is the last thing I want to give.
So when exactly should we give grace?
Welcome to episode #12! Oh, it's so good to be back! Momma's I've really had to focus giving myself a dose of grace lately. For those of you who don't follow me, I am just getting back into the groove of things after having my son.
This is my fourth child and I've somehow forgotten the added exhaustion of having a cute snuggly baby. And needless to say, the full strength of a freshly brewed coffee also slipped back into my existence.
Giving myself grace has always been hard. Giving myself grace when dinner is served through the drive-thru, or as a mixture of things in my bare cabinets.
Yes, I've prolonged going to the grocery way too many times.
Or in the moments I feel I don't deserve grace. When I can't seem to control my anger and my kids get the scolding mom I told myself I'd never be.
Listen to the Passion Brewing Momma's Part 1 of Giving Grace.
But, in the midst of my tender emotions, giving others grace is just as hard.
When others hurt me, or when I see how my relationships are not what I desire, grace is the last thing my heart wants to give.
Maybe you can relate. When we feel our husband doesn't understand us. Or, our friends aren't present in our lives when we need them to be.
When our relationships don't meet our expectations, our reactions don't greet grace.
The Gift of Giving Grace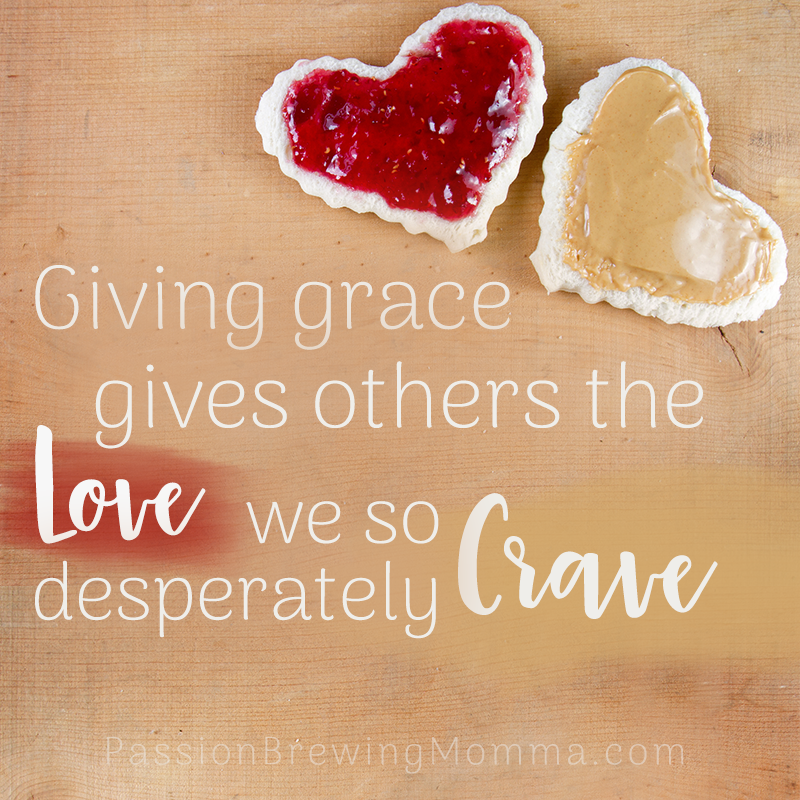 Giving grace when it's not earned gives others the love we so desperately crave. Click To Tweet
Grace is the gift God continually gives. And, it's the gift we should continually give to those we surround ourselves around.
Grace is the gift of love. It's the type of love that heals and grows our relationships.
For one, when we give grace it opens the opportunity to self-evaluate our reactions.
Instead of only blaming others for the problems in our relationships, we get a glance of what we've contributed.
The gift of grace softens our heart enough to ask; have I really done my best to keep this relationship thriving?
2 Corinthians 8:7 NIV- 7 But since you excel in everything—in faith, in speech, in knowledge, in complete earnestness and in the love we have kindled in you —see that you also excel in this grace of giving.
Are you a person that likes to write things down?
Try this FREE daily planner for when you need grace, not guilt.
Finding Joy in the Moments of Giving Grace
Grace is the jelly of the peanut butter and jelly sandwich. It makes everything sweeter. Let's face it, marriages and friendships are not perfect.
We want the well-rounded relationship. The relationship that will suit all of our needs.
But, that's impossible. The perfect friendships don't exist. People are imperfect. That's why grace makes our relationships stick like a peanut and butter jelly sandwich.
When we give grace our relationships become inseparable.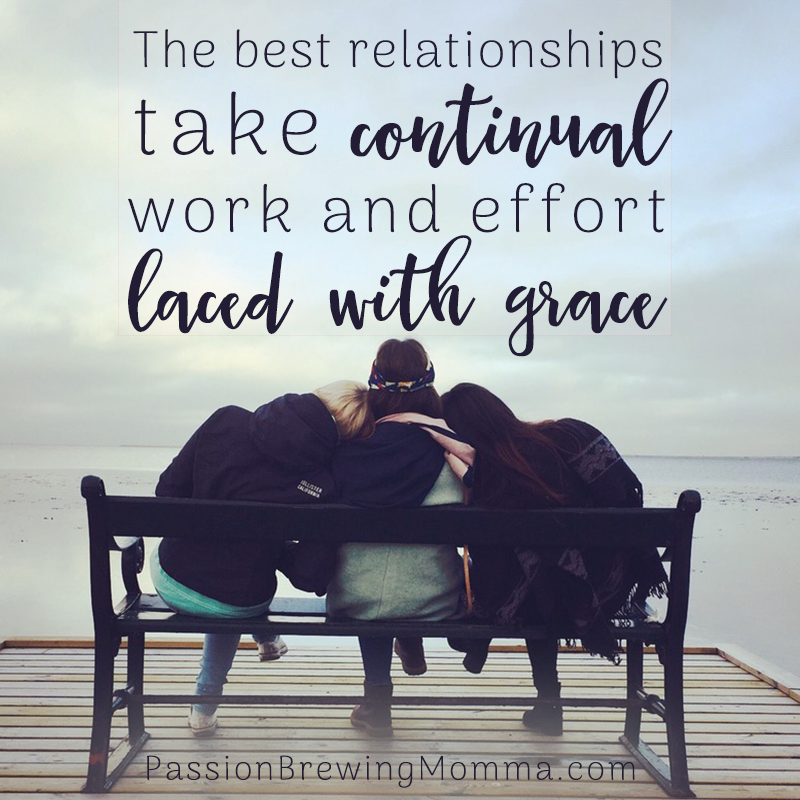 The best relationships take continual work and effort laced with grace. Click To Tweet
Finding joy is not only about owning a passion and taking care of ourselves. Finding joy requires maintenance in self-care and in our relationships.
So in the rocky moments of our friendships and with our spouse, let's give the gift of grace.
And in the moments our relationships are their strongest, let's repeatedly give grace. For we all need the endless gift of grace God so lovingly hands to us. For our past mistakes, today, and tomorrow too.
Don't know when to give grace to your kids?
Find out when to show tough love and when to show grace.
---
Here's an Outline of the Sweet Stuff in Episode 12:
When to give grace
What makes our relationships inseparable
Finding joy in our relationships
Resources from the Show:
Where to find me:
Did you miss the last Passion Brewing Momma Episode? Listen Now!
To subscribe find me on your podcast app. If you don't have an app here's some I suggest:
For Android-Podcast Addict
Help me out and leave a review on iTunes!
---
Subscribe
Join the newsletter to get the latest updates.
---
---