If you're anything like me, you're stumbling around Pinterest adoring all those cute and pretty Thanksgiving craft pins. This week, I'm taking the challenge to create some easy Thanksgiving crafts for you mommas!
Busy mommas, exhausted moms, and happy mommas these crafts can be created in that YOU time I've been talking about.
I'm not a crafty person, so these will be easy and simple!
Easy Thanksgiving Crafts for Adults (AKA moms too!)
When my fingers endlessly scroll through the Pinterest world I notice I often think wow that's pretty, but I don't have time to make that.
I pin, or now save all the things I want to create.
Rarely I go back and take the time for myself to create them.
If crafting is on your wish list of things to do in your free time as a mom, take the challenge to say yes to the new crafty mom this week!
Say what, free time? It's likely you stumbled on this post and haven't heard of my big fuss in the importance of taking YOU time.
Well, as a friend and from one mom to the next, I recommend you listening to the Passion Brewing Momma podcast episode on;
Make Time For What You Love: When There's No One to Watch Your Kids.
Fall Leaf Be Thankful Banner
Have you ever wanted to include your kids in the spirit of being thankful?
The truth is Thanksgiving is not all about warm pumpkin pie and turkey (in our case tofurkey). So this year, I wanted to show the importance of being thankful to myI preschoolers. Instead of a casual conversation, I wanted something that would stick to their curious minds.
I came across this very beautiful thankful tree from Simply Vintagegirl. Since my backyard is not full of limbs, I couldn't create this gorgeous display without packing up the family for a day at the park.
Remember, I wanted easy Thanksgiving crafts lol.
So, I found another idea that sparked some creative thinking in my not so artsy brain. At A Beautiful Mess, I found four easy fall garlands and one that came with a free fall leaf template.
Since I have loads of construction paper sitting around the house, I decided to make a Fall Leaf Be Thankful Banner.
Make the Be Thankful Banner Craft into a Family Activity
I thought this Thanksgiving banner craft had ME time written all over it, but it turned more into a family activity for everyone.
First, I downloaded the free leaf template.
I gathered up yellow, orange, and red paper for fall colors and printed the template using these.
Here's a complete list of things I used.
You will need:
Colored Paper
Marker/Pen
Scissors
String (I used twine)
Whole punch/toothpick
How to Make the Fall Leaf Be Thankful Banner
Once I cut our my leaves, my kids started questioning, what's mommy doing?
These leaves have more advanced cuts for a four-year-old, so I did my cutting on my own. But, if you have children who like to cut, have them help you out!
To fill my space where I wanted to hang my banner I needed 18 leaves.
I didn't use the five-pointed leaf because it lacked space in the middle to write.
Now, I would have loved to have the full family sit down to come up with things we are thankful for together, but it didn't work out that way for us.
So, I asked my little munchkins and husband throughout the day.
I recommend using a marker for the words to show up, a thin tip works great!
We don't own a whole puncher, so I used a toothpick to punch two holes into my leaves for weaving the string.
The Brown twine string brought a great earthy fall feel the be thankful banner, but you can use any string you have.
Be careful while weaving your string so that your leaves don't break!
When I hung up our thankful banner my kids started to take notice. They would ask, what's this one say and what does this one have on it?
The banner turned into a great way for them to remember throughout this season of things we, as a family, are thankful for.
Here Are a Few More Ideas to Incorporate in Your Be Thankful Banner:
Make a banner of 24 leaves: Each day write something you are thankful for on your leaves
Go a little deeper: Write thank you cards for the people in your life you are thankful for. If you're thankful for nature, go take a walk outside. Are you thankful for good food? Make a family meal together.
Challenge your family and friends to make their own Be Thankful Banner!
Be Thankful Printable Art
Want some more easy Thanksgiving crafts to spice up your thankfulness? This by far is the easiest! I created a free printable template just for you!
This by far is the easiest! I created a free printable template just for you!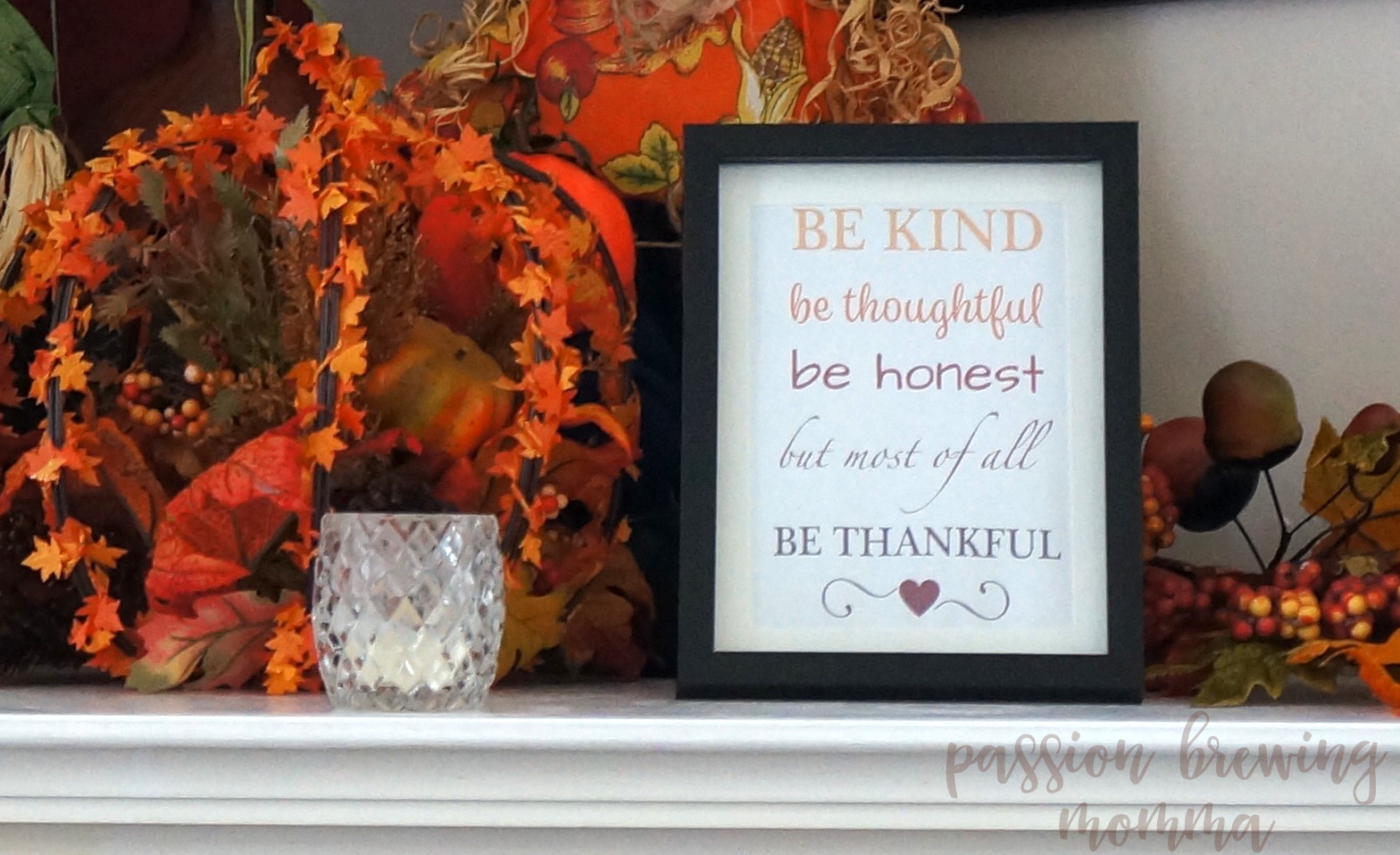 For this craft, all you have to do is print and cut!
In my household, we have runny noses, grocery lists unchecked, and many places our hearts have to travel. So, if your schedule is as crazy as mine this easy Thanksgiving craft won't take much time at all.
It's a great way to shine thankfulness into your own home, even if you're not hosting a meal.
Want Some More Easy Thanksgiving Crafts to Try?
If you tried out the Fall Leaf Be Thankful Banner make sure to tell me about it in the comments!
---
Subscribe
Join the newsletter to get the latest updates.
---
---