Have you ever stumbled on how to follow up after a publisher appointment? Five weeks after my publisher appointment I am finally sending my thank you cards. I'm not a card sending person, and I believe my family is finally accepting the idea of not receiving any pictures of my kids. The ideas are always stored on the creative giving side of my brain.
But, the other busy side is constantly being asked where my kid's cups are and if I've washed the whites yet. The truth is we are all busy and it's hard to make the time to write out and send that square white envelope.
Keep in mind the thank you card to your future publisher, or agent is very important. They want to see you are willing to make the effort to build a relationship with them.
Late is always better than never.
One week, five weeks or six months afterward is still a thank you.
Today, I am going to walk you through five ways to make a memorable thank you according to your brand. Remember, publishers don't want to see someone else's voice or imagery.
Publishers want to know why your message is unique.
You can make your brand stand out by:
Using the same fonts you use for your blog
Implementing the same colors, or design in what you send
Using your own quote from the book you are pitching
Want to know more about my first writer's conference? Read more here.
5 Ways to Follow Up After a Publisher Appointment
1. Create a Personalized Bookmark
Bookmarks are a great way to remind your publisher what you pitched. I don't know a publisher personally, but since they are in the writing industry I believe they love reading as much as we do! If you are familiar with photoshop that's where I created mine, but if not that's okay too.
Photoshop-I created a FREE template for Vistaprint. Use the button below to download it or click here.
Canva- If you don't have Photoshop you can create your own design easily in Canva.
Here's what you will need to do:
1. Go to Canva & create a custom dimension. I made mine 2″x7″, but if you are having it printed look and see where you are printing first (printing places differ in sizes).
2. Import the image you want to use. Import your image in the uploads sections and start designing. If the image you select has a busy background, you might consider decreasing the opacity and increasing the saturation on your image so that the text is readable.
3. Save your work. When you are finished with your design, save it as PDF: for print.
Canva comes with lots of fun fonts! You can also include your own branding by either subscribing to their 30 Day FREE Trial or pay $12.95 a month to use your own custom fonts. They even have free tutorials to learn how to make your images stand out.
Printing-If you have a printer and paper cutter you can make your bookmarks at home. I used 14 pt. glossy card stock paper, but you could also use 14 pt. thick matte card stock. If you are making a double-sided bookmark use double sided glossy paper.
In the future to save time, I would consider using Vistaprint. For five bookmarks their starting price is $5.99! Great price if you don't want to mess with printing them yourself.
Make sure to check the bookmark dimensions of the printing service you are using before making your design!
Some printing websites differ. Vistaprint offers 2"x6".
Choosing Images for Your Bookmark
When you pick out an image for your bookmark you will want to choose the highest resolution. Here are my top three websites to pick free quality photos.
1.Pixabay
2.Unsplash
3.Pexels
Branding Your Bookmark
When deciding what to put on your bookmark you can always stick the theme for the book you are pitching. If you have a devotional include a prayer on the bookmark. A good thing to keep in mind-pick a sticky statement that they will want to keep the bookmark rather than tossing it in the nearest trash can.
Why brand it?
Do you have a common font you use on your blog? You will want to use this too for your bookmark. If they happen to stumble upon your blog in the future, or if they've already checked it out, they will visually remember your thank you card. Now that's a good impression!
2. Creating a Recipe Card
Are you a food blogger? Here's a way to get personal and give a great gift along with a thank you. Maybe you have some recipe cards already in mind, but if not at avery.com you can make your own with their three different design templates. They will also print them for you if you don't have a printer at home. You could even include your blog website on the recipe card!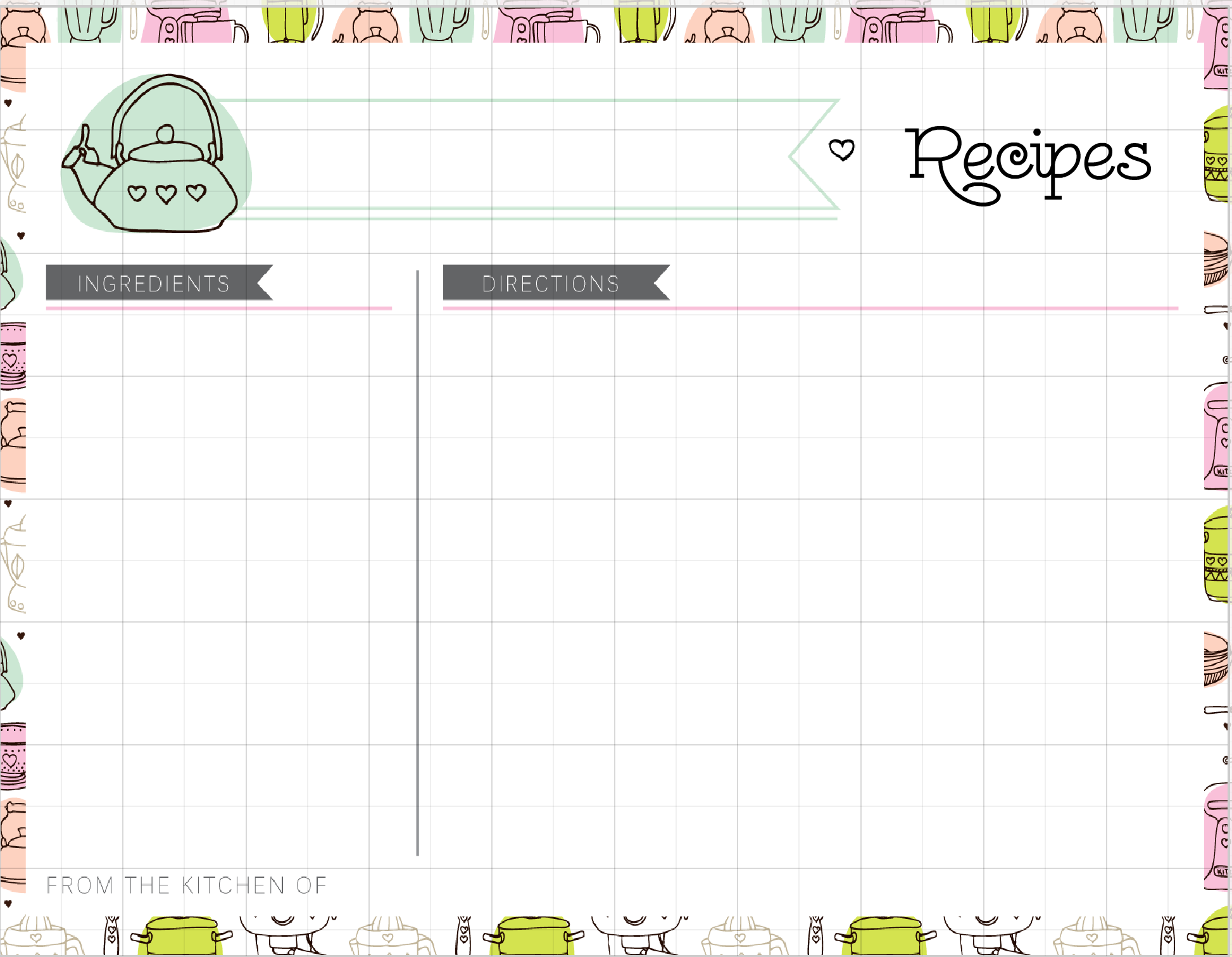 3. Make a Custom Magnet, Notepad, Pen
Have your pens and notepads ever run away? Give something little that's greatly appreciated. Design it with your personal quote, or blog name. Vistaprint has all of these custom items for under $15.
4. Buy Your Publisher a Cup of Coffee
If you're a coffee giver you could send a $5-10 Starbucks gift card. Send a thank you card that says you greatly appreciated the time they took to meet with you.
Send a coffee through e-mail with Starbucks!
5. A Simple Thank-You
When's the last time you received a thank-you card? Personal thank you cards seem non-existent these days, so even a simple thank you card will be appreciated. Do you have bad handwriting? Try printing out your thank you! Start by measuring the card open, and then go to Canva to create a custom dimension template.
Enter your dimensions, and then go to Layouts and pick the layout that shows two horizontal landscapes above one another. Paste your text into the bottom landscape. Make sure to leave enough around the edges.
Before printing, click on the landscape image and reduce the transparency to 0%.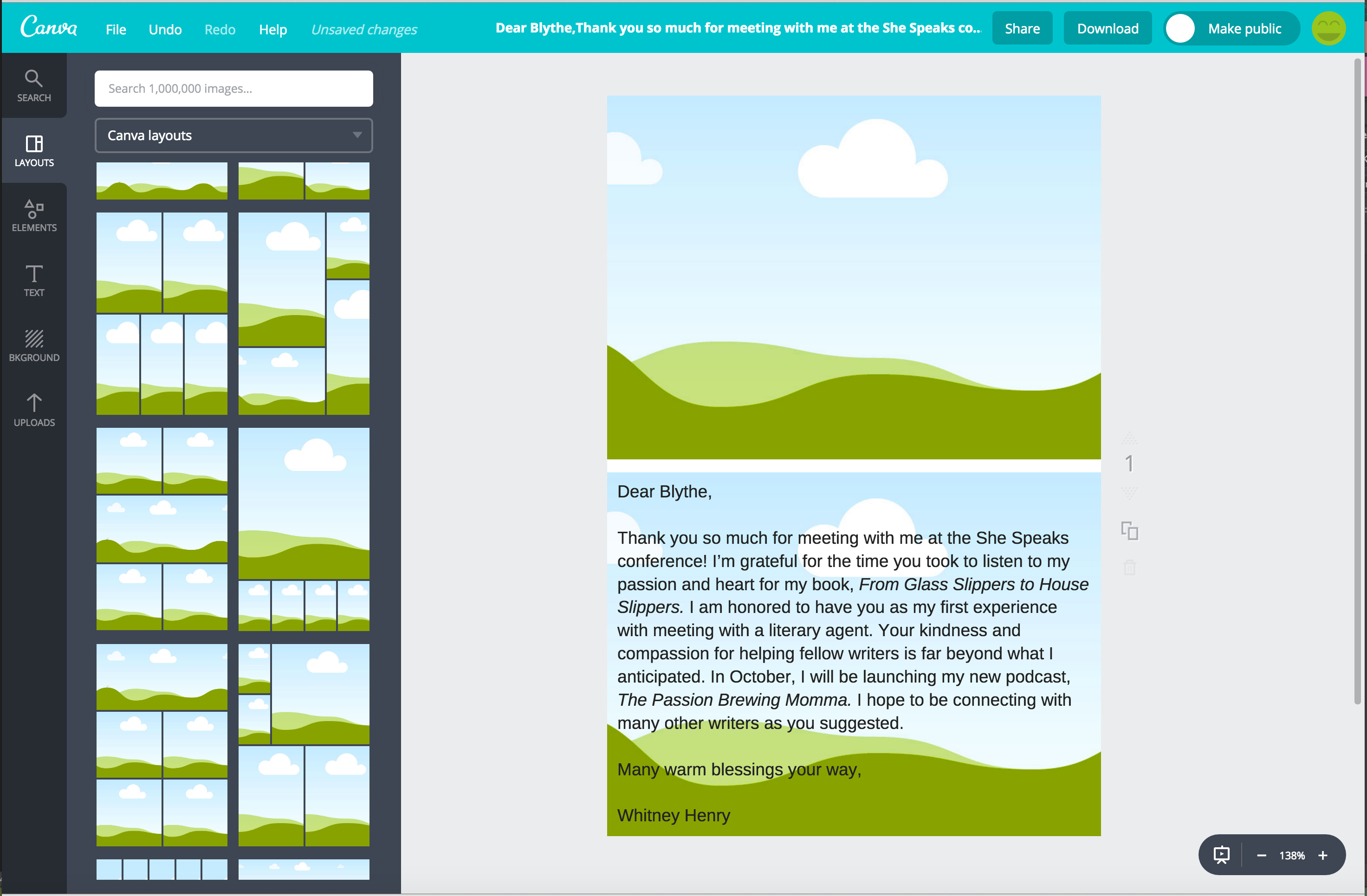 To make it look professions try using a lighter weight font and a dark gray color vs. black. You can also make your own personal thank you card in Canva with your own pictures.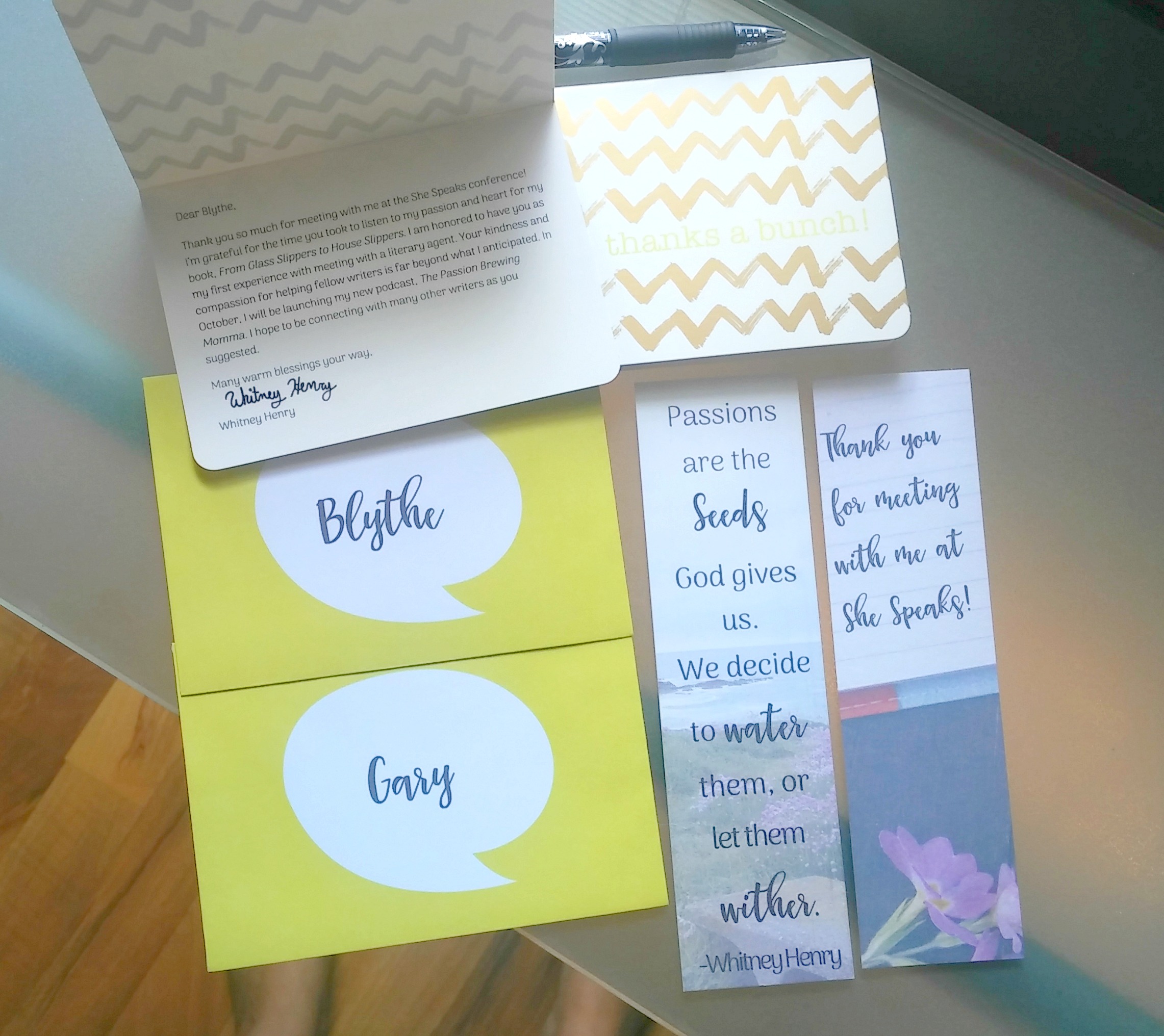 What are some ways you have followed up with a publisher? Tell us in the comments below!
Want to know more about my She Speaks adventure, check it out here!
---
Subscribe
Join the newsletter to get the latest updates.
---
---