What do you do when you feel invisible?
In the last five years of motherhood, I've learned a few survival tips.For instance, making my kid's drink the night before to avoid a mommy meltdown from cups running away.
Or, packing emergency snacks to make it through the entire grocery story.
If you find a trail of Cheerios in the grocery section, pardon me, I haven't found a fix for spilled snacks yet. 😉
Of course, I don't follow these hacks all the time. It's the times where I'm not on top of it all that my insecurities as a mom go crashing through. But, honestly, everything I've learned about motherhood usually goes unnoticed.
In fact, I'm pretty sure the days I rocked out pulling out the Windex to clean the sticky handprints went without a thank you. Or, the days I made my kids smile after losing their favorite toy or kissing boo-boos flew past without acknowledgment.
As a stay-at-home mom, it's easy to get wrapped up in how well we are doing by how clean our house stays. If I'm really honest, my house is always a chaotic mess. I can't seem to get organized or figure out how to keep everything clean and have something for myself too. But, I haven't given up yet!
And let's not forget the testing of our mothering skills when we take our kids in public.If I can keep my kids from having a meltdown like that kid over there, surely I'm not failing, yet. It's a thought we all secretly think, but deep down, from one mother to the next, we all are trying our best to survive.
---
Perseverance: To The Moms Who Feel Useless
As my son rustled in bed, I knew he was ready to plant his feet on the ground and ask for his favorite drink.
On the days I'm prepared, I usually have his chocolate milk ready in the fridge, but today was the day I didn't even know where his cup was.
My eyes tried to squeeze in the minutes of sleep left, and my heart felt heavy of the tasks I had ahead of me. The dirty dishes already piled on my kitchen counter, yet again.
Along with loads of laundry waiting to be cleaned and put away. The same tasks will be waiting for me tomorrow, and the next day. These daunting duties as a housewife seem far from being labeled successful.I know I'm not the only Mom who feels these household chores weighing down our motivation.
We seem unimportant and useless in the world. Some days we even feel our failures as a Mom touch us on a level too deep.
-Is it worth doing this over and over again?
-Isn't there something more important I can be doing?
-Does anybody even notice what I do around here?
-How many times am I going to become unglued?
Here are some ways to renew yourself as a stay-at-home mom.
Keeping Perseverance As A Mom Is Hard!
We tackle each germ and argument waiting on the moment saying:
You are important. You did this. You rock!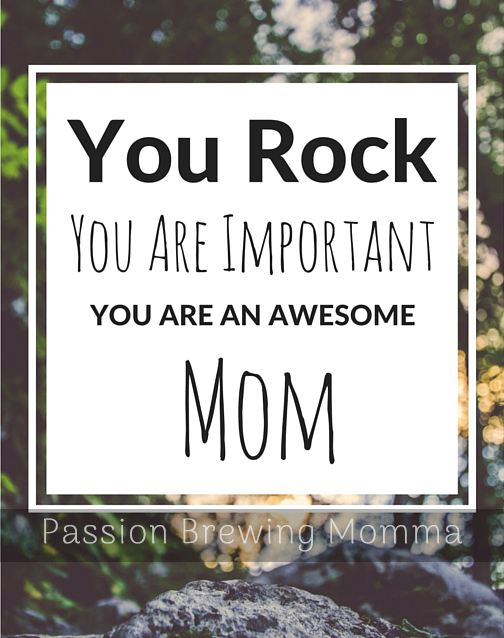 I don't know when this moment will arrive for you, or for me.
I can capture a glimpse of it when I feel a little hand reaching for mine before crossing the street, or like the other day when my little ones started helping me pick up.
These moments are what keep me going.
I don't know who they will become, or where they will end up. But, seeing these little moments come together reminds me that we are the role model for our kids. We are their biggest fan and we are important.
All these days when my efforts go unnoticed— will become part of what made my kids into their everything.
My perseverance as a Mom will pay off, and so will yours.
So my message for you today is: You Do Rock! We don't always see our hard work paying off, but keep your head up! One day we will look back, smile, and realize we are the rock of their world.
Read our story about when God called us to leave our job and have a baby.
---
5 Things To Do When You Feel Invisible
Stay-at-home mom or working mom, we've all felt the sting of our efforts going unnoticed. So what do you do when you feel invisible?
Each blessed day as a mom we learn a little something. But, what can we do when we don't see our efforts paying off? Here are some things that help me, maybe they will help you too!
1. Give Yourself Grace:
Who knew motherhood held so much weight on our shoulders? I mean, we are responsible for these little tiny human beings and how they respond to the world! Sometimes when we feel the pressures of motherhood and life we can feel our efforts slip away.
I encourage you to give yourself a dose of grace. Grace in knowing that you are good enough. Grace for those extra responsibilities we pile on. Shake those little things off. Breathe.
Need a dose of grace? Listen to the Passion Brewing Momma episode to find out why giving yourself grace is important as a mom.
2. Know You are Making a Difference:
Even on the days, we feel like total failures, we are making an impact on our kids. And yes momma, for the good. When you feel invisible, remember that what you're doing today matters.
3. Visit a Friend:
We all need a friend to vent to. Whether it's an old friend that's not entered the season of motherhood, or if she's a mom who's in a different season then you are. Catching up with a friend reminds us that we are not alone. Take an hour with a good friend and laugh about those things driving you crazy this week.
4. Take Some Time for You:
I can't express the value in self-care as a mom. When we take the time to discover who we are away from our kids, we gain the confidence we need as a mom. Those times when we feel invisible drift into moments where we feel more alive. Take some time for you, even if it's twenty minutes after your kids go to sleep.
5. Pray:
God is always with us even when we are too stubborn to speak with Him. Praying and telling God what's in our hearts, especially when you feel invisible, can put a smooth rhythm into our soul. In fact, He craves an open relationship with us. Surrender to Him in times of uncertainty and loneliness.
Here are 7 Habits of a Highly Happy Stay-At-Home Mom from Modern Blogger Pro!
May you fill your day with knowing that YOU MATTER MOMMA! Write in the comments below and share with us what you do when you feel invisible.
---
Subscribe
Join the newsletter to get the latest updates.
---
---