Exploring homeschool options can be overwhelming, but it doesn't have to be. There are lots of different homeschool curriculum options. Let's break it down.
There are ten different homeschool curriculum methods or types: Traditional, Charlotte Mason, Accredited, Distance Learning Style, Unit Study, Classical, Relaxed, Unschooled, Montessori, and free homeschool curriculum alternatives.
Each homeschool method offers a variety of benefits, yet each one is applied using different resources and styles.
How to Buy A Homeschool Curriculum that Fits Your Needs
Before you buy a homeschool curriculum it's best to sort through the options that will go well with your family.
There are a few different teaching methods that go better with the values and morals parents want to instill in their family.
Finding the right curriculum is like trying on a pair of shoes. One might look like the right fit, but after trying it out it might not be the perfect one.
Some families have to try various curriculum options until they find the right fit. One curriculum method might appear to fit your student well, but you won't know for sure until implementing it.
If you are just starting homeschool, you can buy a few used curriculums to try out.
It's okay if one curriculum doesn't work like you thought it would. You are not failing. Try something else.
Here's a breakdown of each method so that you can get an overview before buying one.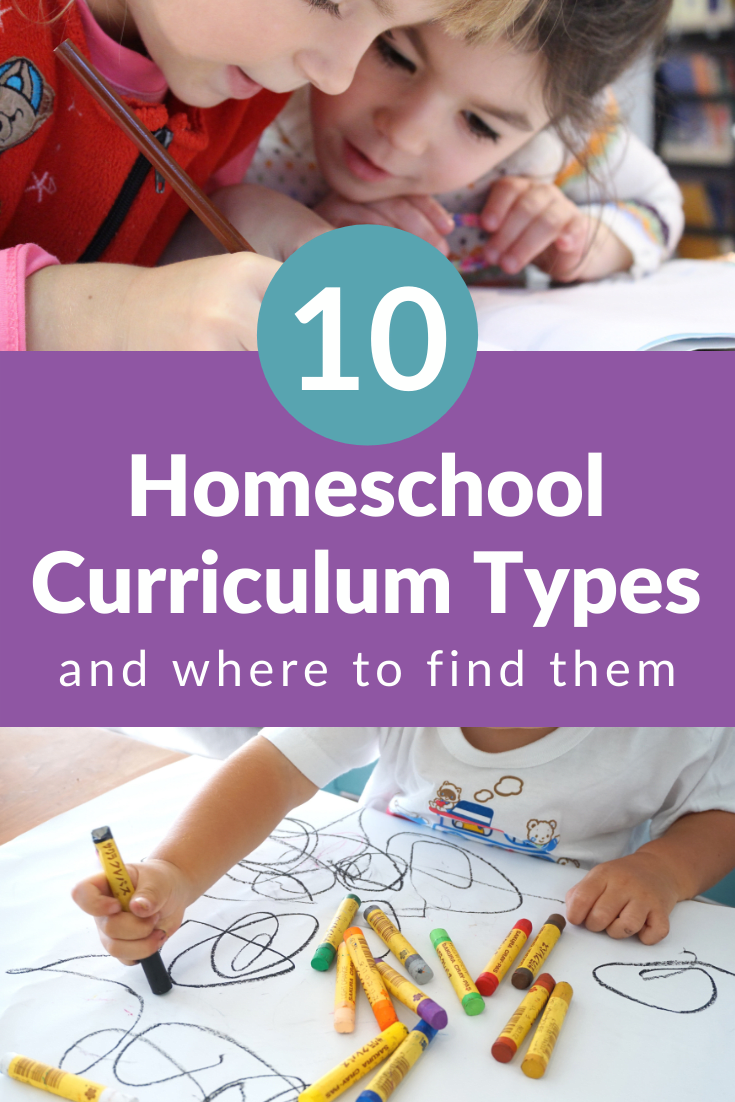 The Traditional Homeschool Curriculum
How Traditional Homeschool Works:
Traditional homeschool or school-at-home follows closely to the public school model with wall posters, quizzes, and following by the book to grade-level expectations.
This can be done by parent or with an online teacher.
What Traditional Homeschool Uses:
A traditional curriculum uses a mix of textbooks, workbooks, and the computer.
This is a boxed curriculum meaning all subjects come already picked for you.
Traditional Homeschool is Best For:
Families who want to follow closely to public school expectations.
Parents who like pre-packaged sets with a year's worth of materials.
Parents who are concerned to match their child's education with their grade level.
Students and parents who need structure.
Homeschoolers that are required to keep records on hand. (see homeschool state requirements here)
Families who are starting homeschool.
---
Traditional Homeschool Curriculum Options and Where to Buy Them:
---
Charlotte Mason Homeschool Curriculum
How Charlotte Mason Homeschool Works:
This teaching method is from Charlotte Mason- an author, teacher, and lecturer in the late 1800's.
Charlotte believed education should involve the whole person, not just the mind.
Mason's motto was " Education is an atmosphere, a discipline, a life."
The main focus with a Charlotte Mason curriculum is narration (having children tell you the story in their own words after you read it), copy-work, nature studies, and living books. Including a focus on the development of art and music.
Living books are written by authors who are passionate about the subject they are writing-making the books more engaging.
Unlike textbooks which are written by committees who strive to set government-regulated standards for the schools.
What Charlotte Mason Homeschool Uses:
Narrative literature with the use of living books helps keep the students engaged and the lessons short. Instead of using worksheets the students narrate everything they can remember.
Living books are used to help kids learn to love literature and are written by authors who are passionate for the subject.
Copy-work is assigned to help with memorization and handwriting.
Nature studies are included as living science and to help the student learn to understand the world around them.
Spelling and grammar are practiced through dictation. Dictation is the practice of saying things out loud or writing them down.
Exposure to fine-arts and music.
This is a mix and match curriculum approach. It focuses on narrations, dictation, copy-work, living books, while engaging the students in nature. Math, additional science, or any other core subjects are added from your own choice.
Charlotte Mason Homeschool is Best For:
Families who want a holistic approach, meaning supporting children for who they are entirely, not only supporting their mental health needs.
Parents who want their child to build positive habits outside of the learning space.
Parents who want their children to be free to express themselves clearly.
Families who love the idea of adding nature into their school day.
Families who want to include music and art education.
Children who need short engaging lessons to learn.
---
Charlotte Mason Homeschool Curriculum Options and Where to Buy Them:
---
Accredited Homeschool Curriculum
How Accredited Homeschool Works:
This homeschool curriculum must be officially accredited to match state standards kindergarten through Grade 12.
Usually given in a course format online or by workbook. Grades are given and standardized test are offered through online courses like Abeka Academy.
Accreditation is the major focus with this option. Diplomas and transcripts are fully accredited.
What Accredited Homeschool Uses:
Accredited curriculum, assessments, workbooks.  
Accredited Homeschool is Best For:
Families who are concerned about their child's accreditation.  
Homeschool families that have a state regulation that they must follow an accredited homeschool curriculum. Find out more about your homeschool state regulations here.
Families that want their child's education to be evaluated by testing.
Parents who want support in knowing their child is excelling.
Families who can afford the cost on materials and online academy options.
---
Accredited Homeschool Curriculum Options and Where to Buy Them:
---
Distance Learning Style Homeschool Curriculum
How Distance Learning Homeschool Works:
Children go through individual courses on the computer on their own. Parents can check their child's progress during the school year.
What Distance Learning Homeschool Uses:
Web-based platform with a course format.
Distance Learning Homeschool is Best For:
---
Distance Learning Style Homeschool Curriculum Options:
---
Unit Study Homeschool Curriculum
How A Unit Study Homeschool Curriculum Works:
A Unit Study homeschool curriculum weaves a theme or specific time era for a period of time in all subjects.
This approach is used to help retain information. Themes can be literature-based or based on science, history, art, geography, or music.
What A Unit Study Homeschool Curriculum Uses:
Unit studies use a hands on approach and believe students learn by doing. Books, videos, journal keeping, and activities are all used for unit studies.
Activities can include science experiments, crafts, field trips, themed meals, presentations, or plays.
A Unit Study Homeschool Curriculum is Best For:
Parents who want to create their own curriculum.
Kids who learn best by doing.
Students who are autistic and are interested in specific subjects.
---
Unit Study Homeschool Curriculum Options and Where to Buy Them:
---
Classical Style Homeschool Curriculum
How Classical Style Homeschool Works:
There is a three part process to the classical style.
1. Concrete learning (the grammar stage)
2. Critical learning (the logic stage)
3. Abstract learning (the rhetoric stage)
The grammar stage is for early elementary years and builds upon memorization and repetition. This stage instills core knowledge of knowledge of math, language arts, science, and social studies.
The logic learning stage starts at fifth grade. This is a time to develop concrete thinking and analytical reasoning. Students learn by asking why.
The rhetoric stage builds upon the previous models in middle school. Critical thinking skills, conclusions, and debates are used.
What Classical Style Homeschool Uses:
Classical education is language-focused and follows the three-part pattern; learning is accomplished through words, written and spoken, rather than through images (pictures, videos, and television).
It uses worksheets, reinforcement, learning games, and assessments.
Classical Style Homeschool is Best For:
Parents who want to emphasis on Latin learning, logic, and rhetoric
Parents who want to show the character of education.
Families that want to teach their children to think on their own and come to their own conclusions.
---
Classical Style Homeschool Curriculum Options and Where to Buy Them:
---
Unschooling Homeschool Method
How Unschooling Homeschool Works:
Unschooling is a style that allows the child to follow their own interests or passions deeply. It is best described as child-led learning.
Unschooled homeschoolers trust that education is learned organically instead of following a curriculum.
John Holt, one of the leaders of the unschooling philosophy said,
"Birds fly, fish swim, man thinks and learns. Therefore, we do not need to motivate children into learning by wheedling, bribing or bullying. We do not need to keep picking away at their minds to make sure they are learning. What we need to do, and all we need to do, is bring as much of the world as we can into the school and classroom (in our case, into their lives); give children as much help and guidance as they ask for; listen respectfully when they feel like talking; and then get out of the way. We can trust them to do the rest."
Unschooling focuses on empowering natural curiosity.
What Unschooled Homeschool Uses:
First, it's important to check your homeschool state requirements to make sure you don't have to follow an accredited curriculum or take exams.
Unschooling is legal in all 50 states. Certain States have different homeschool regulations to follow.
Families chose if they want to use a curriculum or allow their child to learn by interactions around them. Some families chose specific subjects to follow with a curriculum and let the rest of their education to follow organically.
This method might take time for adjustment if your child is used to a structured environment.
Unschooling Homeschool is Best For:
Kids who have a big interests in a particular subject or theme.
Children who get bored with school.
Children who love to explore topics on a deep level.
Parents who don't like the pressure of "keeping up" and like the idea of their child learning at their own pace.
Parents who have time to come up with the resources for exploring their child's interests.
Parents who love to learn with their kids.
---
Unschooling Resources
---
Montessori Method
How Montessori Homeschool Works:
Montessori home-school holds a lot in common with the Unschooled method. It is child-led without a lesson-planned checklist. Creativity and curiosity are encouraged so that children will want to keep learning.
Montessori method focuses on tangible items making learning right at the child's fingertips. This education platform values learning life skills, while also having children learning from each other in different age groups.
Montessori is a type of private school, but can be implemented at home. It is recommended to get certified to teach Montessori.
This method is generally used with elementary age students.
What Montessori Homeschool Uses:
Montessori homeschool uses hands-on learning with active learning methods. Life skills are gained by using utensils children can reach and use on a daily basis.
Outside time is a resource parents use while having games, puzzles, and activities to learn with.
Montessori Homeschool is Best For:
Children who like to work at their own pace
Children who learn best with hands-on learning
Parents who can trust their child to direct their own learning without structure
For parents who want their child immersed with tangible learning
---
Montessori Homeschool Curriculum
---
Relaxed Homeschooling
How Relaxed Homeschool Works:
Relaxed homeschool is a combination of the Unschooled and traditional method.
According to Dr. Mary Hood, "Relaxed homeschooling is a mindset that embraces these four tenets: you are a family, not a school; you are a dad and the head of a household, not a principal; you are a mom, not a teacher; and you have individual relationships with your children, not a classroom.
Learning experiences are guided by parental goals and the goals, interests, and personalities of the children."
Some relaxed homeschool Curriculums follows the leading of the Holy Spirit and students work on spiritual goals as well as academic goals.
What Relaxed Homeschool Uses:
Relaxed homeschool focuses on the 3Rs-reading, writing, and arithmetic.
Other resources may include unit studies, note-booking, hands-on activities,  or living books.
Some parents might lean on a curriculum as a guide and follow it loosely.
Relaxed Homeschool is Best For:
Parents who value the joy of learning.
Homeschool families with multiple children.
Families who value doing things as a whole family.
Parents who struggle with letting their kids learn on their own. In essence this will help parents let go of a check-list curriculum.
Kids who need a happier learning environment.
---
Relaxed Homeschool Curriculum
Relaxed homeschool can follow any curriculum. This type of homeschool method is simply following a curriculum loosely.
---
Free Homeschool Options
How Free Homeschool Works:
There are a handful of free curriculums online. Some don't follow specific state regulations, but are a resource for those who need a budget-friendly homeschool curriculum.
Some options are done on the computer, as others you will gather resources for the assigned lesson. These free homeschool options don't follow a specific homeschool method, but are still highly useful.
---
Subscribe
Join the newsletter to get the latest updates.
---
---